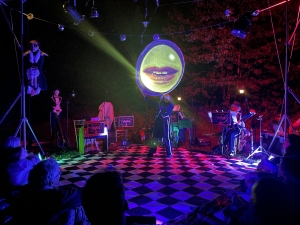 Crow is:
Live music
Comedy
Video projection
Twilight Show
Duration 40 mins
Taking the form of a music concert, this show begins at twilight when three musicians arrive at a gig, but as the light fades the atmosphere begins to change. A continuous music score is interrupted by acts of comic conjuring, more Tommy Cooper than David Blane, as they try to discover the secrets of the egg. As full darkness falls, sleight of hand and video projection expand this comic world suggesting ideas both profound and absurd.
'If I could count as well as sing, I'd crack the physics of the thing'
Follow Crow on Instagram
Here for the Video.
Here for the Touring Pack